Pakistan's first ever 'virtual fashion show'- the brainchild of Frieha Altaf CEO of Catwalk Event Management & Productions was postponed in respect to the memory of those who tragically lost their lives in the PIA A-320 jet crash including Pakistani supermodel Zara Abid.
The innovative digital fashion show in which 19 leading Pakistani brands show capsule pieces from their latest collections began on Day One with a general overview of all the six participating designers and their models repeatedly spouting what may now be the new ground reality in fashion show presentation: "virtual fashion show" which seemed jarring to say the least!
This was followed by more laudatory comments from participating designers and models espousing that the show is a tribute to the front-liners including Amir Adnan who said "designers care about them (frontliners) Catwalk cares about them and Fashion cares about them".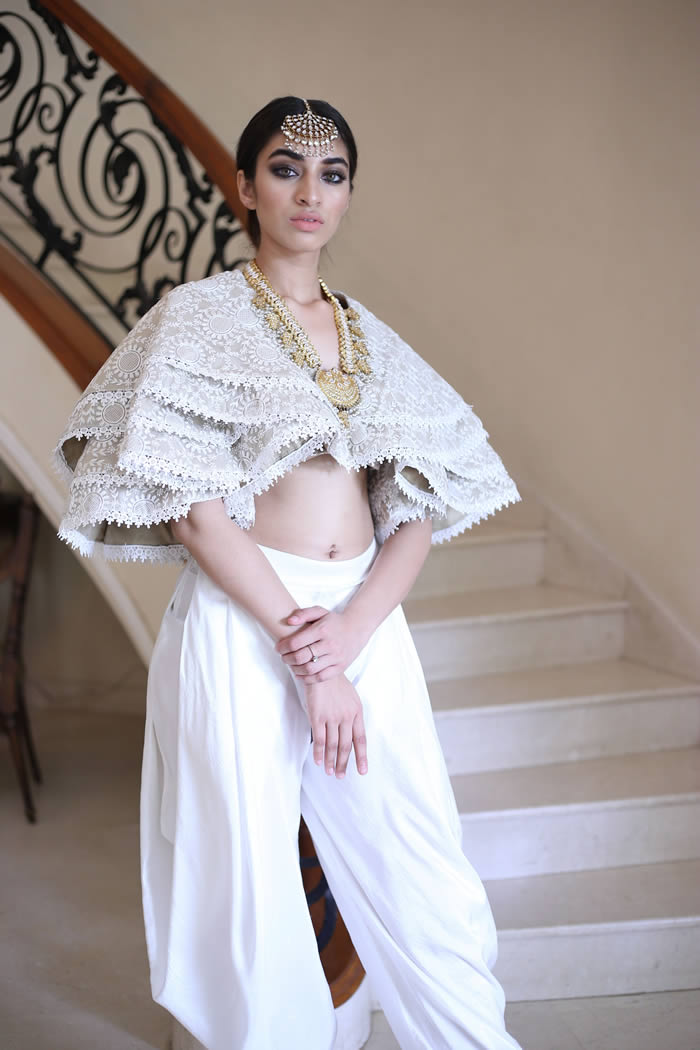 Show director Frieha Altaf t thanked all the designers, models and frontliners and as a preview to the collections again reiterated that the show was dedicated to the frontliners and hoped that the Eid garments given as kind gestures of gratitude "put a smile on their faces." Altaf further stated some statistics about the 364 Covid-19 affected health workers in Sindh seven of whom had lost their lives as well as five police officers who had passed away.
Day One kicked off with retail game-changer Khaadi whose collection 'Bohemia' described by KHAADI CEO Shamoon Sultan as all about "expressing one's individuality in a fun way" was modelled by: Robina Khan Set against a brightly-hued ethnic backdrop the four-piece capsule included vibrant fuchsia cobalt, citrine and tangerine ethnic prints transposed onto short belted bell-sleeved tunics and layered tasseled coats offset with traditional carry-on bags A vibrant and ebullient collection that gave hope in these dark times. Both designer and model thanked the front-liners for their brave services and vowed to continue to support them.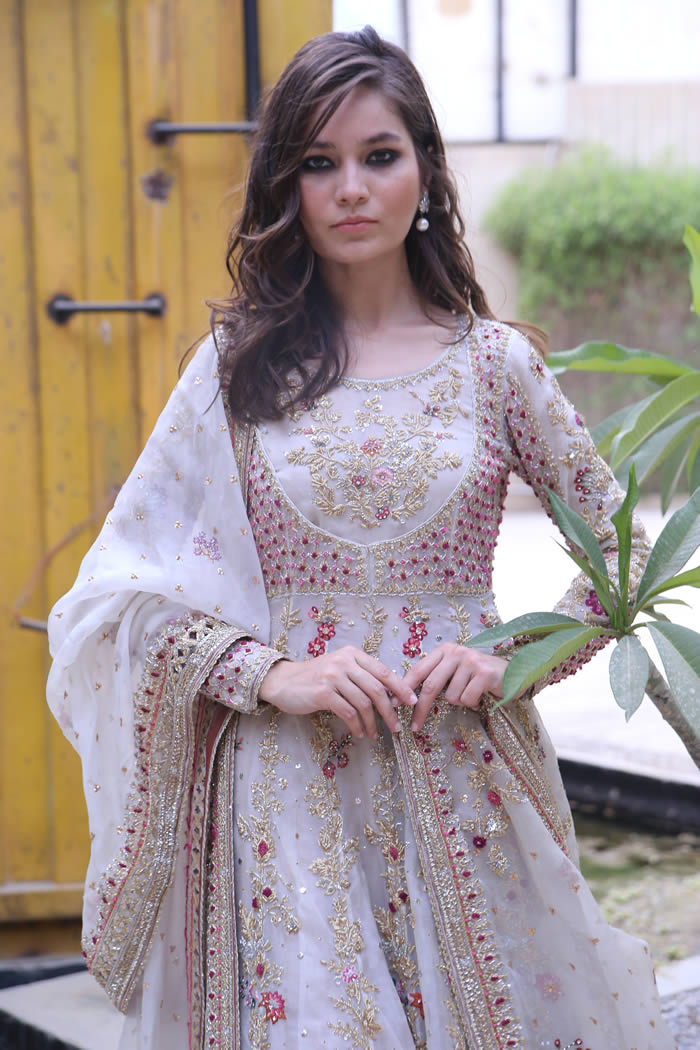 Before the next designer Maheen Karim's showcase 'Parizad' which is artfully juxtaposed behind-the-scenes communications between Maheen and her chosen model Rahhima Ali which added a bit of interest and showed the art of coordination via social media 'Parizad' was supposed to have been showcased at the cancelled Hum Showcase but Maheen believed Catwalk Cares was the perfect platform to showcase the capsule. Maheen had collaborated with Image Fabrics and transposed their materials into classic Maheen Karim silhouettes creating a collection "made by strong independent women two from Image Fabrics and three at Maheen Karim" Parizad was ostensibly all about empowered women and the all-white five piece capsule included swirly one-shoulder lace evening gowns; three-layered bolero tops worn with jodhpur pants and a gorgeous sari/stole hybrid evening look offset with traditional ethnic jewellery including teekas To reiterate the fact the show was a CSR activity with Fashion indubitably "caring" both designer and model again gave out thankful shout-outs to the frontliners including "doctors, nurses and policemen and women".
The next designer Amir Adnan a forerunner of the Pakistani Fashion industry called show director Frieha Altaf a pioneer and was happy and excited to be part of the innovative digital fashion show that was "'paying tribute to the frontliners" His four looks Summer Festive Eid collection was modelled by enthusiastic rising star Subhan Awan and used a simple palette of lilac and deep purple juxtaposed with black and white and was transposed onto slim long and short shalwar kameezes and elegantly coordinated plain and printed waistcoats and buttoned prince coats Ironically it was a male model who was highlighted using the make-up kit Zero Make Up by NABILA which is the official hair and make-up partner for Catwalk Cares!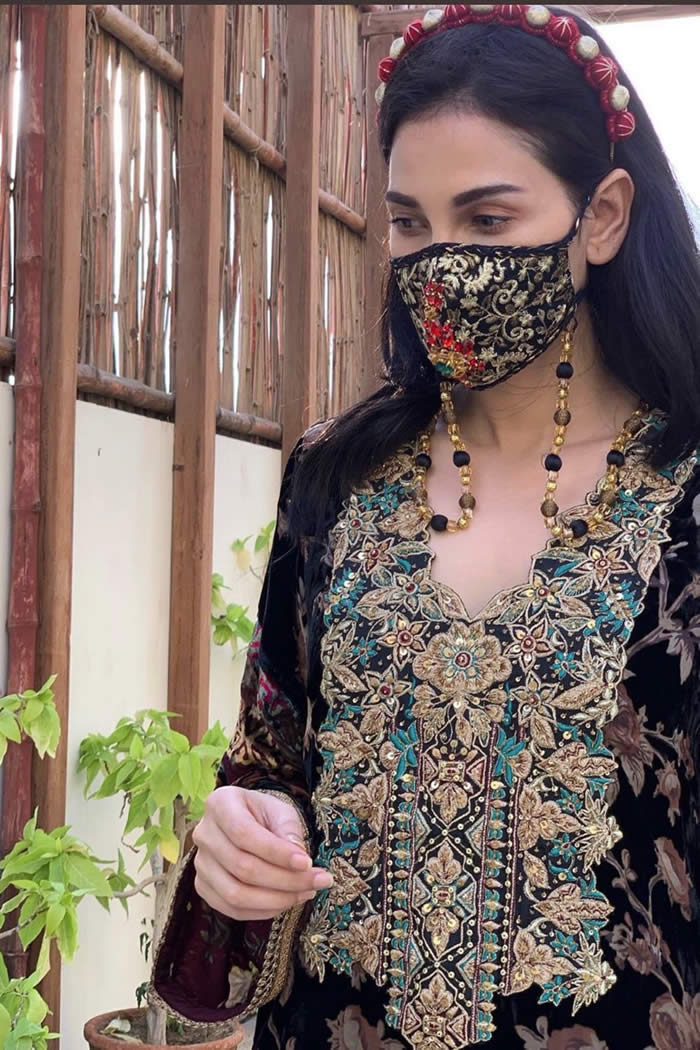 Huma Adnan called Frieha Altaf 'a powerhouse who needs no introduction" as she explained why she chose supermodel Abber Rizvi for the tribal-influenced collection because of her indigenously tribal features. The five looks 'Kuchi' collection was inspired by Kandahar Afghanistan and included long flowing white kuchi skirts worn with short embroidered tops and kuchi kaftan dresses in cerise, black, and pink florals organically hand-printed by Afghani refugeeswhom Huma closely works with.and was also paying tribute to , The festive fusion and easily translatable resort wear collection was accessorized with signature Huma Adnan handmade jewellery made by the same Afghan refugee women, Well-edited behind the scenes looks of Abeer trying on the festive tribal jewellery was energizing. Keeping in step with the dire pandemic times we are living in, Huma also showcased matching reusable and washable masks which are also available for sale while calling the frontliners "our true heroes and patriots"
The ever eloquent and pioneering couturier Shamaeel Ansari: said she was delighted to be part of Catwalk Cares and was happy that Catwalk was "taking the first lead and that her went out to the frontliners" The opulent three piece capsule collection 'The Light of Darkness was elegantly modelled by Fahmeen Ansari in myriad well-lit and close-up shots and included black and silver backless short bell-sleeved tunics worn with slim cropped cigarettes pants; scarlet one shoulder frilly tunics worn with coordinated protective masks and a luxurious gold and black high-collared opera coat with slit kimono sleeves replete with leather gloves that exuded high voltage drama and glamour!
The sixth and last designer of Day One Nida Azwer spoke about the virtual show as "the new way forward to accepting and adapting to the new normal and Catwalk Cares as a way to keep us entertained in these trying times". Model Fahmeen Ansari before showcasing Nida Azwer's luxury formal collection Anemone' highlighted the versatility of TRESemmé hair products - TRESemmé being the official Hair Partners for Catwalk Cares - with a fun montage of her washing and blow drying her tresses The four piece 'Anemone' capsule included timeless pieces carefully hand-embroidered using the finest quality fabrics enhanced with delicate crystal and traditional intricate resham and zardozi embroidery. The season-less separates that included kalidars and jackets which can be paired in multiple ways radiated in soft hues of pinks, gold silver and ivory and are indubitably collector items.
Day One ended with a hear-warming photo montage tribute to supermodel Zara Abid (1992-2020) and "all the precious lives lost on the tragic PIA A-320 jet crash" against a lilting soundtrack of iconic Pakistani band Strings 2018 hit 'Urr Jaoon' (Fly Away) . The montage included glowing tributes by friends and colleagues who had worked with the late super model including designers Sana Safinaz, Khadijah Shah of Élan and Nomi Ansari and models and actresses Mushk Kaleem, Abeer Rizvi and Saba Qamar who had narrated the debut short film 'Sikka' in which Zara acted in in a double role.
Deft, edgy, well executed and well-edited and genuinely highlighting the fact that Fashion and Catwalk truly cares .Day One was an encouraging and inspiring harbinger of more great fashion with heart to come…