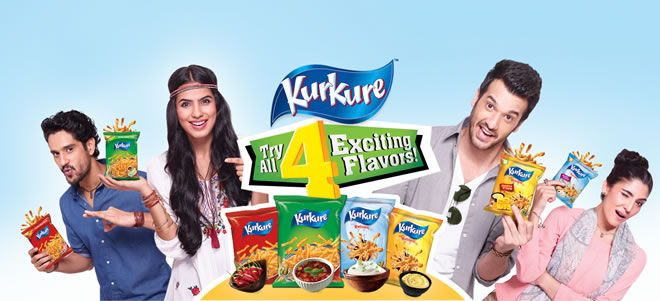 With so many commercials airing on TV, Kurkure's TV advert stands out from the crowd. How you might ask? It's an upbeat & hip commercial with a simple message in it – Kurkure has 4 flavours, and you've got to try them all!
The models dance to a catchy tune and get lost in the world of Kurkure's delicious flavors. The ingredients twirl and pirouette to the infectious melody and inform us about the different ingredients that go into the making of each of the 4 flavours of Kurkure.
The new Kurkure TVC is a breath of fresh air as it manages to change the generic dynamic that most TVCs have that we are used to seeing. The beauty of it all lies in its simplicity. They haven't tried too hard to sell, and it seems that they are portraying that the flavours are so good, that they don't need to employ fancy marketing gimmicks to compel you to try it. It has the raw sense of honesty; highlighting the crisp noise of the "Kurkure's Krunch" and the burst of flavours of each variant.
I wasn't aware that it was a corn based snack, and using this intelligent storyboard to incorporate that information was interesting. The advert overall captures the young and exciting brand's personality. Visually, it's pleasing to the eye and employs very smart use of colors in the background to match the Kurkure packs.
The production value of the advert has to also be given a special mention. The utilization of cut screens, quick fun shots and the visual quality are on spot and fit perfectly with their catchy new jingle! The wardrobe and styling was cool and classy with the right amount of Kurkure fun. I really want to see how that headband will look on me!
Check out Kurkure Pakistan here: https://www.facebook.com/KurkurePakistan