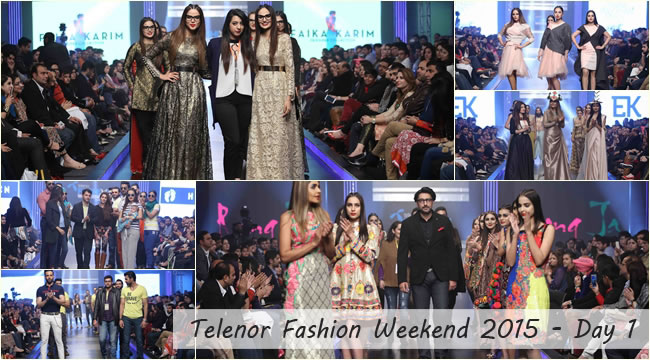 HUM Network proudly presents "Telenor Fashion Weekend", a celebration of fashion and culture. The two-day fashion extravaganza kicked off on February 20 at Royal Palm, Golf & Country Club, Lahore.
Day 1 of the fashion extravaganza featured by many Pakistani existing and emerging designers. The first performance on Day 1 was by acclaimed music band Overload. The audiences cheered to "Batti" and "Neeray Aa" and enjoyed other hit songs by Overload.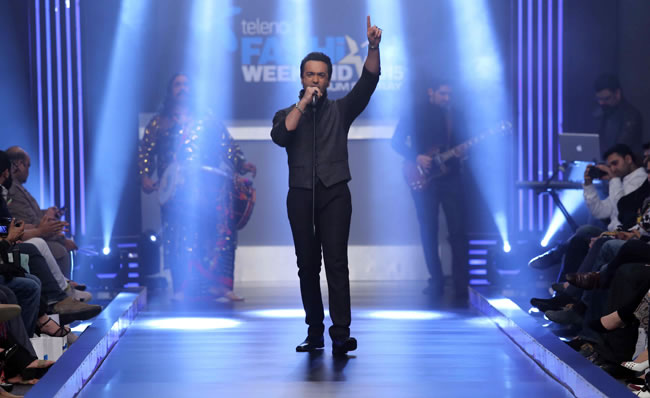 The first fashion presentation began with the highly appreciated spring 2015 collection by ChenOne. Chenone TBW2015 Spring collection transformed the resort feel from their main line into a high-fashion, smart casual, and luxury collection. Luxe fabrics and chic silhouette comprised structured fine cuts, with an array of A-line skirts, cropped trousers and tops.
Next to showcase was Erum Khan's luxury prêt collection titled, "Medallion Dusk". Erums TBW2015 collection was inspired by the distinctive mash up of simplicity, elegance, purity and strength of women, Medallion Dusk was a glamorous celebration of various shades of women.
The next fashion showcase was by Faika Karim's "Lahore Prêt", contemporary designs and traditional colours with artistic juxtaposition of luxe materials is simply flawless.
Faika Karim's TBW2015 collection truly inspired by the heritage of Lahore city. The pin-tucked trousers and high waisted skirts received huge appreciation from the audiences for their structured tailoring and vibrant colours.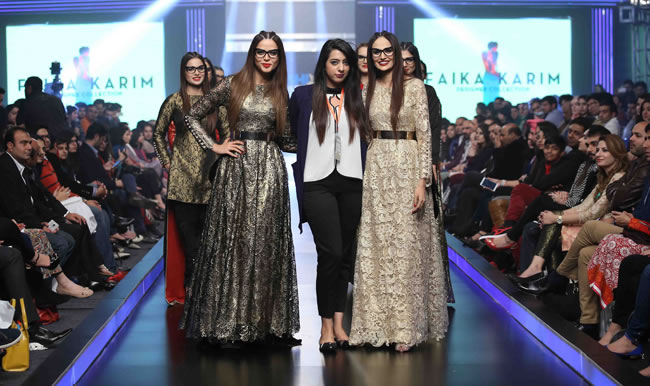 Next to Faika was Eden Robe presented their spring/summer kids' casual collection on the "runway". Eden Robe took inspiration from fresh summer sorbet for this refreshingly delicious and so full of colours collection. Eden Robe TBW2015 collection was tastefully beautiful or simply as perfect as the sorbet treat itself for kids to relish on a hot summer day.
Paying homage to the victims of Peshawar Attack, Breakout presented their collection "For the Brave" on the catwalk, with a message of hope, courage and love for all Pakistanis. Breakout anticipated showcase of the day by the graduates of PIFD.
[contentblock id=1 img=adsense.png]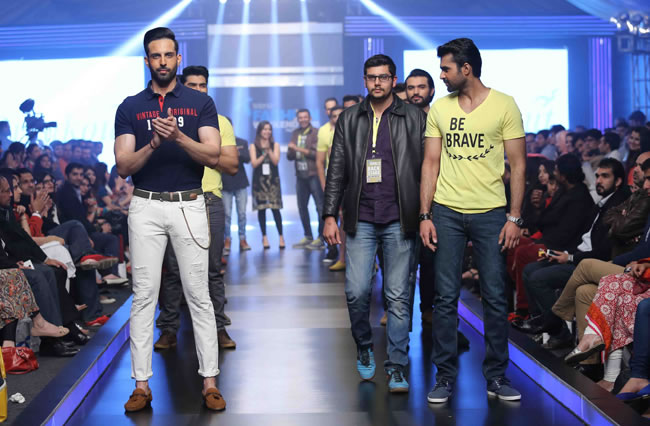 Sponsored by Telenor Karo Mumkin, the PIFD showcase began with Aneeqa Karim's "Darkness Against Light". The inspiration was taken from her own photographic work which showed the effect of darkness against light and its influence of shadows. The prominent elements were explored by utilising laser-cut technique for her collection material.
The next to Aneeqa Karim was Fatima Basirat collection titled "Be Still My Soul". The collection was inspired by the delicate lotus flower and its journey starting from the muddy waters and reaching to the surface for light. Fatima Basirat TBW2015 collection embodied the seldom- told journey of the eccentric lotus flower into a bold and confident yet very feminine silhouette. The approach was to design soft and elegant garments for a perfect soul.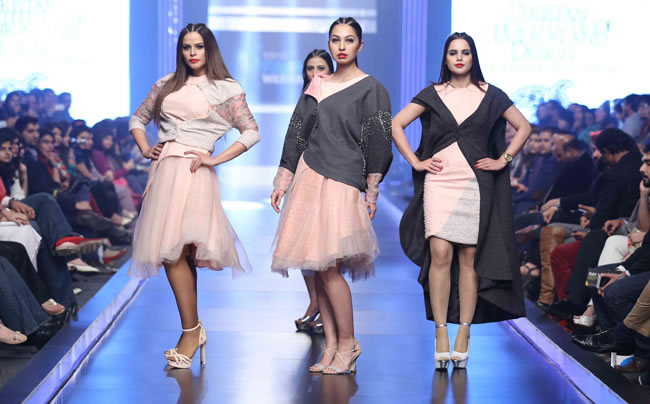 Next to showcase was PIFD graduate Noor-ul-Ain Zafar. Her collection "Discovering Michael Jackson" explored effects of the torturous childhood life of singer Michael Jackson in relation with Joseph Merrick, an Englishman who had severe skin deformities and used to cover it with a blanket and a mask. The cut lines of the garments were designed using classic MJ silhouettes with black & gold as dominating colours blended with the blanket like feature reflecting Joseph Merrick's rudiments.
The last fashion collection of Telenor Karo Mumkin PIFD Graduate Show was presented by Zainab Zulfiqar. Her collection "The Tragic Fall Of an Ostracised Queen" examined the issues faced by Marie Antoinette. Throughout her life she struggled as a girl, as a wife, as a queen, as a mother and as a widow. The garments in this collection displayed her inner feelings depicted by bringing the concept of wearing innerwear as outerwear such as corsets and crinolines. Every garment had a cage to portray the entrapment of Antoinette's feelings and emotions.
After PIFD graduate show, the fashion label HangTen presented their collection titled, "Summer Fling" explore what's next in fashion. Summer fling had a mix of tops- from rugby to graphic tees for the teens and to formal shirts and polos for the young executives.
Day 1 of the fashion extravaganza was concluded by the ethnic-wear brand Rang Ja. The brand stayed true to their signature usage of vibrant colours and ethnic embroideries. In their TFW 2015 collection, Rang Ja brought forth a perfect fusion of Pakistani culture with contemporary styles.
[contentblock id=2 img=adsense.png]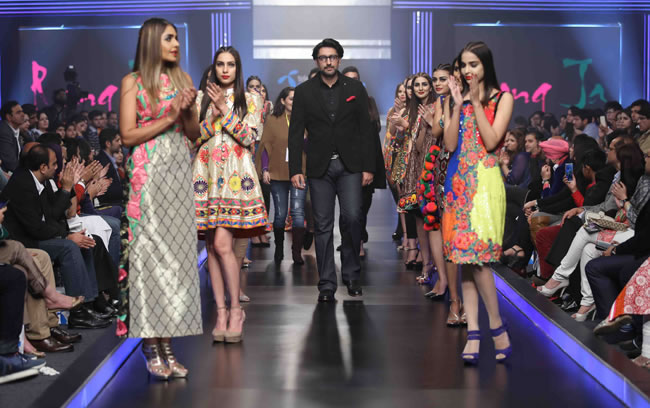 Telenor Fashion Weekend is driven by ChenOne .Choreographed by the designer and choreographer Hassan Sheheryar Yasin with Hair & Makeup by TONI&GUY (NORTH PAKISTAN).
Aamir and Muneera @ Production 021 are the official backstage managers, while photography is done by M. Haris Usmani and Ahsan Qureshy.
Official Social Media pages are managed by HUM Interactive. FM 106.2 is the official radio partner of the event. The featured shows will be aired under Style360 presentation, which has developed into the prime source of fashion and lifestyle for television audiences in Pakistan and is the perfect platform that provides designers the eyeballs and the reach both locally and internationally.
PR of Telenor Fashion Weekend is handled by the in-house PR team of HUM Network.