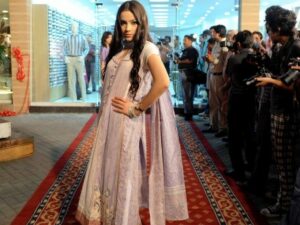 The Launch of House of Bonanza at Fountain Avenue, Main Boulevard Lahore. The store is 75% men's wear and 25% women's wear, at the store; one can find outfits for different seasons all year round. The collections that are offered are; Bonanza Jewel, Bonanza Italiano, wrinkle free trousers for men, designer series lawn for women, and prêt collection for women. The stock is always updated, so that, every time you visit you will see new stuff!
Rain or shine Catwalk productions launched the House of Bonanza store in Lahore . At the launch there was a fashion presentation where models showcased the Bonanza the different collections that can be found in Bonanza store.
The best part about the House of Bonanza is that; people can just walk into the outlet and pick up readymade clothes for the entire family. Bonanza clothes are in tune with the latest fashions and are at a reasonably priced. The readymade garment manufacturers are armed with scissors and seam, fabric and flair, Bonanza have won the wardrobe ware and have been a force to reckon with.
Six male models and 3 female models walked the ramp. Hair styling and make by Khawar Riaz and Hand bags provided by "Karizmah". Photography by Faisal Farooqi.
Red carpet Host
Natasha
Male Models
Muhammad
Ruhaib
Arsalan
Mubashir
Bilal
Abdul Mamnan
Female Models
Neha Ahmed
Alizeh Gabol
Amna Batoola
Photography by Faisal Farooqi
Hand bags by Krizmah
Makeup and styling by Khawar Riaz
Event Managed By "Catwalk Productions"
PR and Media Handled by "Catalyst"