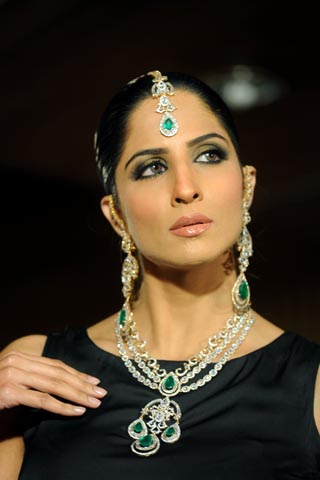 In a country like Pakistan where every woman is on the look out for latest trends and vogues, jewelry is one thing which never goes out of style. Pakistani Jewelry is a statement in itself; it is a hallmark of elegance and extreme beauty. The trends of jewelry in Pakistan have evolved over the course of time. Nowadays, Pakistani jewelry is all about making bold statements; being the odd one out; being bold and beautiful.
The new trends of jewelry in Pakistan, even though are successors of the trends of previous seasons, they say plenty on their own. The big, bold statement pieces are in fashion and if it's possible, they are becoming bigger and bolder. One recurring trend in Pakistani jewelry which never seems to go out of fashion is the big chandelier earrings that everyone is seen to be endorsing. The big hoop earrings are back with a bang and here to stay, if they ever were really out of fashion.
At par with hoop earrings are chunky necklaces, which are becoming one of the strongest trends of jewelry in Pakistan. More specifically, chunky layered necklaces have replaced the flimsy and dainty necklaces and they tend to overshadow any outfit that you choose to endorse them with. Another sweeping change in the Pakistani jewelry trend is the revival of square bracelets. The best thing about square bracelets is that they go with almost any outfit that you choose to wear them with, and look extremely ravishing. The key is to not limit yourself to one kind of metal. Mix and match is the name of the game. Gold, silver, wooden and resin can be combined and worn together to make a bold fashion statement.
Since this year's in look is layers, the more you stack on the better. The other big jewelry trend in Pakistan is the use of big stout rings. The oversized retro inspired rings are the new fad that the Pakistani jewelry market is going crazy about. Another way to support the ring look this year is to wear multiple rings in one finger only. It gives a semi grunge look which is very easy to pull off. Finally, the latest trend of jewelry in Pakistan seems to be the love for motifs. Whether they are leopard, floral, or traditionally carved designs; motifs are what the new Pakistani jewelry scene is all about.
Therefore, the jewelry trends in Pakistan not only encompass this season, but ensure that you accessorize yourself to hotness throughout the year.