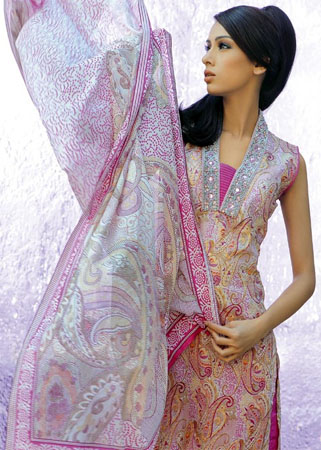 For a long time there was not much variation observed regarding dupatta styles in Pakistan but recently this change is seen.
The fashion and trend keeps on changing not only in Pakistan but around the world. But one thing which hardly changes is the Dupatta style in Pakistan. This time something unusual has happened because Dupatta style has changed. A few years back long dupatta's were considered to be an essential part of the shalwar and kameez but now things have become more modernized and those fluttering long dupattas are now converted into short and narrow strips which girls these days wrap around their necks.
Summer is here and this time many lawn collections of renowned designers include frocks, long kurtas, ponchos and tunics. So the Dupatta style is much more westernized like small scarves with colorful embellishments like beads, sequins, buttons and sparkling stones. Tunics, ponchos and long kurtas do not require a dupatta but dupatta looks graceful with churidars. Some frocks are so funky that wearing a Dupatta with it ruins its style and makes it look traditional so why not follow the trends in Dupatta style and be kool and funky this summer. The Dupatta style has mostly affected the younger generation especially the collage going girls as in summers dupattas become difficult to handle, so this season designers have solved this problem by introducing a new Dupatta style in Pakistan that is more comfortable and trendy.
These new scarf sorts of dupattas give our younger generation a much funkier and western look which is quite "in" these days. For brides the dupatta style is also changed a bit as now we can see more light weight dupattas which can be easily carried with grace and style as compared to those old heavy dupattas filled with lots of embellishments. For brides the new dupatta style is all about being subtle and delicate because it makes them look much more modernized and elegant.
However, there are still some people, who prefer to wear traditional long dupattas because of their ever green timeless appeal. It makes women look more graceful and pretty.
So, no matter which dupatta style you follow, these colorful dupattas carry the culture and grace of Pakistani women within. So girls this season enjoy a fusion of dupatta styles. Be it the long silky dupattas fluttering with the wind or just go funky with the latest short and trendy ones, but whatever you choose, wear it with confidence and style.