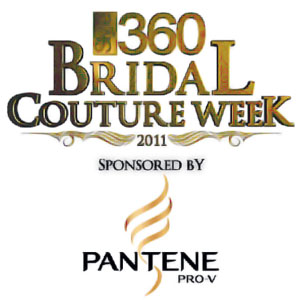 Style360 in collaboration with Pantene and J&S, announced today dates for the upcoming Style360 Bridal Couture Week 2011 which will be set in the metropolitan city of Karachi next month. Style360 Bridal Couture Week 2011 will run from April 22 till April 24 at the Expo Center, Karachi. The three days will showcase a coveted exhibition area, fashion shows and an exciting media package that will be a treat for viewers, attendees and everyone involved in this endeavour.
This mega event will not only showcase the moguls of the industry, but also provide an opportunity to the up-coming names in the market to present their talent and connect with the public. The event will also provide a platform through its exhibition facilities to bring together all those associated with the wedding industry of Pakistan, including fashion designers, wedding planners, jewellers, florists, card printers, furniture designers and shoe designers under one roof. Both local and international models will be present on the occasion. Top models of the country including Nadia Hussain, Tooba Siddiqui, Rubab, Sunita Marshal, Fayeza Ansari, Rubya Chaudhry, Rabia Butt, Ameer Zeb Khan, Abdullah and Emaad will grace the ramp and exhibit ensembles of at least 20 designers including veterans and new comers. The 3-day fashion shows will be choreographed by ace-model and designer, Vaneeza Ahmad. Make-up artists participating in the event are amongst the most respected names in the fashion industry such as Sabs, Mona J and Depilex with the talented Tapu Javeri providing music for the event.Vaneeza Ahmed, hosting the press conference, announced "After the resounding success of last year's Bridal Couture Week, most of the designers who had showcased their collections have joined us again for this year's show in Karachi. In fact, I am proud to say that most of our partners have returned to join us again this year. And like last year, we will be having international designers participating as well – this time round fashionistas will have the opportunity to witness in person the brilliant collection by famous Indian designers."
Speaking at the occasion, Bushra Iqbal, brand manager, Pantene, said: "Once again, we are pleased to be associated with this important event in the fashion arena. The fashion industry is taking Pakistan by storm and we at Pantene, the 14-day hair miracle shampoo, hope to contribute as much as we can. Wedding is an important occasion for the Pakistani society as it brings with it joy and celebrations."
The dream team led the first ever bridal extravaganza in Lahore last year featuring the wealth of Pakistan's finest designers such as Nomi Ansari, Lajwanti, HSY, Nilofer Shahid, Asifa & Nabeel, as well as international names like Muzaffar Ali of India.
Leading media personalities, journalists and buyers from across the country are expected to attend the Style360 Bridal Couture Week 2011 to support the booming bridal industry of the country and get an insight into the ethnic and contemporary offerings of the bridal industry of Pakistan.