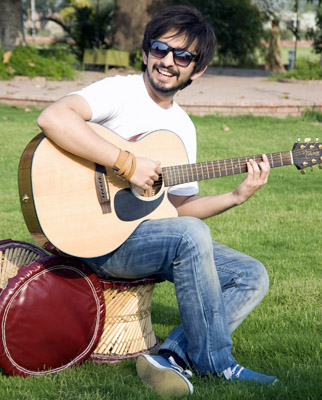 A Lahore based artist, Jimmy has been an amateur performer since the tender age of 14 and has been a definitive part of the Lahore underground music scene 2005. Over time, he has opened concerts for Pakistani music giants such as Atif Aslam, Noori and EP and was also one of the vocalists for the aptly titled 'Cover Band' which on numerous occasions has been known to feature music maestros like Gumby and Mekaal Hasan. He is also a resident performer at Lahore's popular restaurant Gunsmoke.
A keen musician whose instrument of choice is an acoustic guitar, Jimmy spent over 5 years refining his talent which led him to record, and shoot a video for, his debut single 'Pehla Pyar'. Originally composed and written by Jimmy himself as an easy listening pop song, Pehla Pyar features industry stalwarts such as guitarist Omran "Momo" Shafique [of Coke Studio and Uth Records fame] and the groovy Kamran "Mannu" Zafar [of Coke Studio fame] on bass and was produced at the LJP Studios in Karachi.Speaking about the release of his debut single, Jimmy Khan has said, "I am very excited to finally take a step towards making my future in music more of a profession and a career and not confine it to being a hobby. I am currently working on more songs with another release planned for the summer and an EP hopefully by the end of the year."
The video for 'Pehla Pyar' has been shot in high definition and was conceptualized and directed by another young Pakistan talent, Saad Azhar, a graduate of the New York Film Academy, also director of photography for the video.