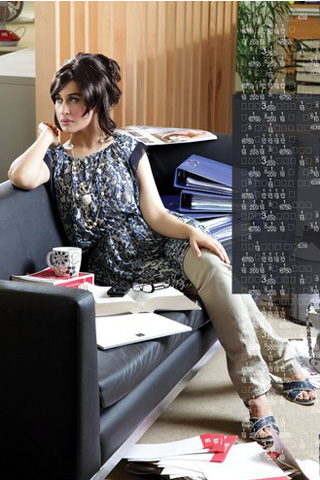 May there be wars or peace, one thing remains common globally and that is, fashion. Fashion is the prime ruler of the world. Just like everywhere else, the Pakistani fashion 2011 is all set to bring lots of surprises for the masses. There are many marvels which are to be expected from the Pakistani Fashion 2011.
The trends for 2010 were very different from what is being planned to showcased by the designers in Pakistani fashion 2011. The designers are now bringing back the 1970's look and cutting down on the 1980's look of flare shirts which takes a cloth of more than two suits at a time. Pakistani Fashion 2011 is all about nice and light tones, no embroidery that is over the top or very flamboyant. Elegance is the main theme for Pakistani Fashion 2011.Recently, in Islamabad Fashion week, the designers unfolded their spring line of clothing. Mostly the look that was in focus was very much inspired by the Cleopatra designs and accessories. Moreover, in various other fashion shows the designers like Zara Shahjahan have show cased a very chic collection, mostly in white with a blend of other colors which marked the true essence of Pakistani Fashion 2011.
The use of accessories is very much in demand by the Pakistani fashion 2011. May it be eastern clothing or western or a fusion of both; it is very much appreciated to have colorful accessories especially floral rings for all the lovely ladies. They complete the perfect feminine look indeed.
Materials like Cotton, Karandi and Chiffons are too much in demand by the designers for dealing with the Pakistani fashion 2011. They not only make a woman look classy and chic but they add a unique style statement to a personality.
Jeggings and full length leggings are a must have for Pakistani Fashion 2011. It is preferable to have leggings in all the possible colors that you can think of. Moreover, remember to have full length leggings not the half-length ones, as they are not at all a part of Pakistani fashion 2011. Also, the Pakistani fashion 2011 is all about cool and trendy jeans. So feel no harm in selecting casual yet trendy pair of jeans for you. An individual's wardrobe is incomplete for Pakistani fashion 2011 if there is not a good pair of chic jeans.
Lastly, just try to relax and be at a good comfort level. The Pakistani fashion 2011 is all about nice, trendy yet comfortable clothing. Just be bold to experimentation and then see how you become a super model of Pakistani fashion 2011.