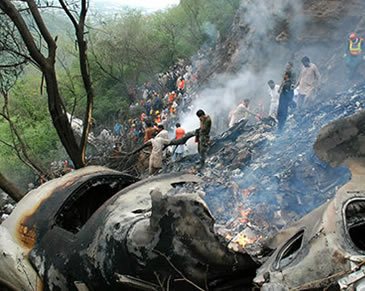 Death leaves a heartache no one can heal; Love leaves a memory no one can steal. Blessed be their souls who have died in Islamabad Plane crash.
Fashion central feels extremely sorry for the loss of lives in Islamabad Plane crash for it is undoubtedly one of the biggest losses for the country that can never be recovered.
The tragedy stuck the Airblue flight ED-202 just 20 minutes before landing at Benazir Bhutto International Airport, Islamabad. The plane was trying to land during cloudy and rainy weather when it lost the contact with control tower. Interior Minister Rehman Malik told reporters, "The plane was at 2,600 feet before landing but suddenly it went to 3,000 feet, which was unexplainable".
Eyewitnesses saw the plane flying at unusually low altitude before a loud bang and the plane disintegrated into a gorge between two hills at five kilometers from Margalla Road, taking the lives of 152 people, including 6 crew members, 7 children, 2 US citizens and an Austrian born businessman.
The whole team of Fashion central expresses its sorrow and deepest sympathies for the family and friends of deceased. May God give them courage and strength to endure the grief and bring peace to the souls of those who are no more with us.  (Amen)