Eyes are often described as the key to one's soul. Moreover, they provide us with the God given gift of vision – something most of us can not ever imagine living without. So shouldn't the key to your soul and the provider of vision be treated and protected with the very best eye care possible?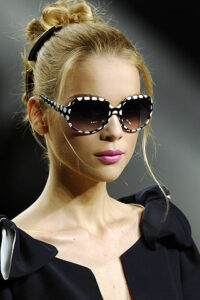 For eye care, you need to have regular eye tests, wear the right reading glasses and wear them when they are needed. Your vision can deteriorate over time and the speed of this process is unique to each individual person, so regular eye exams are an absolute essential part of eye care. Eye exams at the opticians can also reveal other health problems such as diabetes, eye tumours, high blood pressure, multiple sclerosis and even signs of a stroke. Reading glasses have absolutely revolutionised the fashion scene, with both male and female stars setting a striking example for us to follow.
Once an expensive investment that would set you back the average person's monthly salary, fashionable reading glasses are now available in many designs, in many stores at many different price points. It is important that you select the right reading glasses for your eye care. The strength of the reading glasses should be determined by how long sighted you are. When selecting a pair of reading glasses, consider what you will be using them for. If you do a lot of outdoor reading, there are sun reading glasses available that are either polarized, tinted or UV protected. Folding reading glasses are good for people on the go, and can be tucked into a shirt pocket or small purse.
Don't continue using a pair of reading glasses if they hurt your eyes or make you dizzy. Always consult your optometrist if you have any problems.
Reading glasses are an important part of any person who has weak eyes and with time they have entered the fashion scene as well.